If you are using toupee hair system for men for the first time, don't worry, Toupeec teaches you how to wear mens hair pieces at home.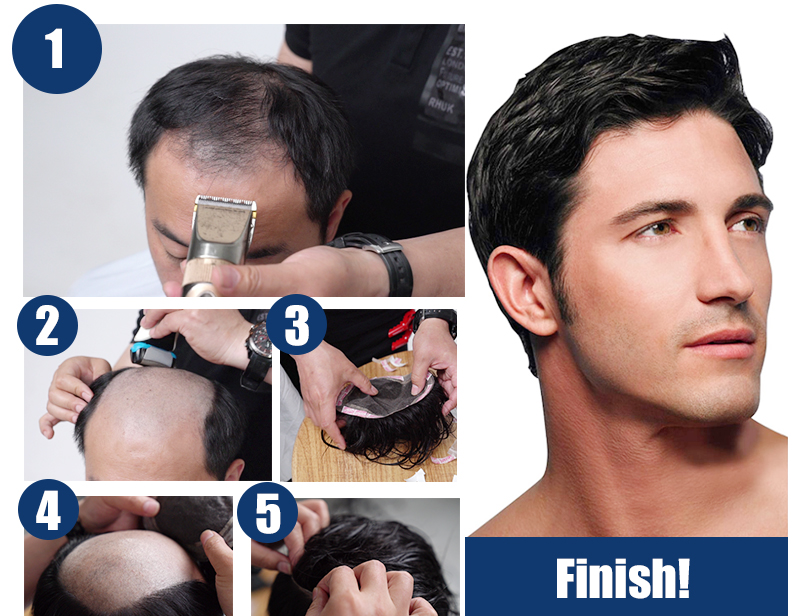 Your toupee hair piece is tailor-made for you, we need to make your head ready for a perfect fit.
Step 1: You should design the area above your head to create a smooth surface (cut off all the hair), and then paste the adhesive here.
Step 2: Adhesive (glue or tape) is applied to the scalp and skin / Or a toupee hair pieces. (all our adhesives are certified, non-toxic, anti allergic and harmless to the skin)
Step 3: First gently press the tip of the system to the center of the forehead, and then slowly continue to press the system in a gradual roll back manner, ensuring that both sides of the system are even until they are completely fixed to the back, covering the entire shaving area.
BASE SIZE:
6*8" & 6*9" .
CAP DESCRIPTION:

Fine Mono in Center, Poly Coating Around Perimeter

HAIR COLOR:
1B#
HAIR TYPE:
100% Euro-Touch Soft Human Hair
Hair Length:
6 inches
HAIR DENSITY:

Light 80%,Light Medium 115%,Medium 120% 130%

HAIR WAVE:

36mm, Slight Wave

Front Shape

CC

HAIR STYLE

Free Style

STOCK

In-stock

DELIVERY TIME

3 days for stock orders.

4-6 weeks for new custom order.

Remarks:

100% hand tied
If you need the most practical non surgical hair replacement for men, and the maintenance cost is low,you can try this MF mono hair piece.
It has a beautiful and breathable monomer top and polyurethane perimeter,make the front hairline invisible.
The Pu around this human hair toupees for men is easy to stick and clean the tape.
The hair is not easy to loose,Monochromatic double splitting junction and Pu single splitting junction.
It has medium density and natural waves.Many basic sizes are available in stock.
Usually within 24 hours. If the length of hair needs to be cut short in advance before delivery, it will take a long time, usually an additional 3 working days. Hair styling costs only $15.
If the size of MF mono hairpiece can not meet your needs, you are welcome to view other hair replacement products through "click here".
100% human hair

Natural wave

Medium density

durable and breathable

easy to attach and clean.




Undetectable hairline

natural look

Free hair styling
Return:After you receive the hair replacement system, if you find any problem or you're not satisfied with the mens hair piece, please do not cut, style, color or clean the toupee, please contact us directly. Toupeec will give you a perfect solution. Please assured that the toupee has not been cut, shaped, washed, colored or used, we will guarantee a 30-day return.If you had asked us made any changes to the hair system before shipping, such as custom order, the product could not be returned for a refund.