If you are using toupee hair system for men for the first time, don't worry, Toupeec teaches you how to wear mens hair pieces at home.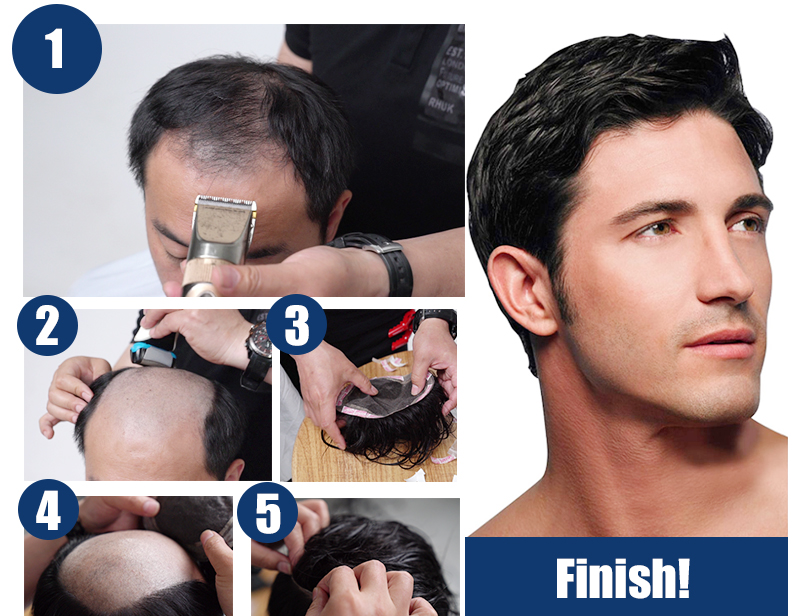 Your toupee hair piece is tailor-made for you, we need to make your head ready for a perfect fit.
Step 1: You should design the area above your head to create a smooth surface (cut off all the hair), and then paste the adhesive here.
Step 2: Adhesive (glue or tape) is applied to the scalp and skin / Or a toupee hair pieces. (all our adhesives are certified, non-toxic, anti allergic and harmless to the skin)
Step 3: First gently press the tip of the system to the center of the forehead, and then slowly continue to press the system in a gradual roll back manner, ensuring that both sides of the system are even until they are completely fixed to the back, covering the entire shaving area.
| | |
| --- | --- |
| Cap Construction: | Full Thick Skin 0.08-0.12mm Thickness All Over V-looped Forehead |
| Base Size: | 10*8",7*9",6*8" Can be cut down to any size |
| Hair Style: | Free Style |
| Hair Wave: | 40mm ,36mm ,32mm ,30mm ,26mm Tight Curl |
| Density: | Light Medium 120%, Medium 130% |
| Hair Length: | 6" |
| Hair Type: | Indian Remy Hair |
| Hair Color List: | #1, #1A, #1B, #2, #3, #4, #5, #6, #7, #7ASH, #18,440 (Gray Hair Made by Synthetic Fiber) |
*The base size can also be custom-made to any size and hair of any length, color or density .
*Natural hairline
*No deterioration No knots
*Front cap definition is invisible
*Made manually
*Made for any hair Hair is not knotted
The super skin hair system only 0.08-0.12mm, it is thicker than normal skin hair replacement, which means that the super skin hair system is more durable. You can use it for more than half a year at a cost of $129. Your investment in hair only needs to be every month Less than $22.
As we all know, the biggest advantage of the skin and hair system is to maintain the highest degree of realism. All Over V-looped Forehead has the most natural hairline. The skin and hair system will not change the skin color on the top of your head. It uses 100% human hair, which is real and natural.
The skin hair system is easy to wear, easy to clean, fits your head perfectly, and feels the most comfortable to the touch. You don't have to worry about its air permeability, because our super skin hair system has evenness on the skin under the premise of ensuring durability. The small hole keeps the top of your head breathing without being stuffy. The comfort, ventilation, and the highest degree of realism you need, this super skin hair system can do it for you.
Toupeec offers high-quality wigs at ultra-low prices, the biggest sale this year, and additional discounts. The super skin hair system is great value for money, you will love it!
100% human hair, with even and natural hair.

0.08mm-0.12mm thick, can be used for about 6 months

Easy to attach and clean.

Single split knots with V-looped hair,

natural hairline looks more realistic.

Free distribution, any hair style
Return:After you receive the hair replacement system, if you find any problem or you're not satisfied with the mens hair piece, please do not cut, style, color or clean the toupee, please contact us directly. Toupeec will give you a perfect solution. Please assured that the toupee has not been cut, shaped, washed, colored or used, we will guarantee a 30-day return.If you had asked us made any changes to the hair system before shipping, such as custom order, the product could not be returned for a refund.